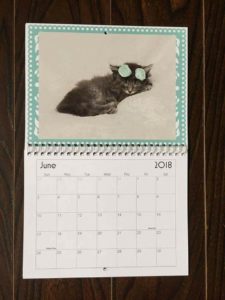 Are you looking for the perfect gift for the cat lover on your Christmas list? Well, look no further. Our fundraising calendars (2018) are available! The full size (11×17) is $25.
Proceeds go toward food, litter, vet bills and the many other operational costs we incur to keep our kittens happy and happy.
They can be purchased at Global Pet Foods in Summerside, the Summerside Animal Hospital, Malpeque Fine Iron Products in New Annan, Blue Ribbon Pet Supply in Charlottetown and the New Perth Vet Clinic. We will also be set up at several craft fairs leading up to Christmas. We will share these events as they come up. If these places do not work for you please PM us and we will make sure you get a calendar or two.
All photos are of rescue kittens from our program and images were taken by the amazing Jill Hardy.